Australian Christmas Stories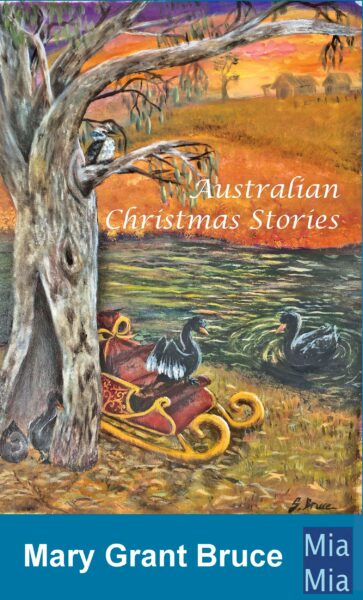 Australian Christmas Stories is available from December 2022 in hardcover print and audio formats.
This anthology contains 17 engaging tales by Mary Grant Bruce.  They range from the City to the Bush and from runaways to romances, always with interest and often with distinctive Australian humour:
A Gentleman by Accident
An Australian Christmas
Home for Christmas
Our Christmas Eve
Christmas at Henderson's
Santa Claus, Junior
In Great Waters
Santa Claus, Mediator
A New Year's Dawn
A Christmas Peacemaker
The Valley of Forgetfulness
Cinderella's Christmas
A Coastwise Christmas
Santa Claus, Helper
The Christmas Cook
A Christmas Misadventure
The Hammock
Christmas everywhere should be filled with loved ones, good cheer and gifts.  But Australian Christmases may also feature burglary, bushfire, snakes, drowning, injuries, truancy and epic journeys, and all kinds of challenges for children and adults alike.
You can almost smell the gum leaves and hear the kookaburras laughing in the background.
The cover art is An Australian Christmas by Stephanie Bruce (2021), the author's great granddaughter.  Mary Grant Bruce wrote that reindeer would be useless to Santa Claus for drawing his sleigh in Australia, and that he would use black swans instead.  His Australian toy-making workshop and warehouse facilities would be underneath a big hollow eucalyptus tree which is guarded by a kookaburra.
Some of these stories also appear in Australian Christmas Yarns Volume I (eBook and audio book) and Volume II (audio formats only).